Toby Jermyn
Director & Executive Board Member
Toby hails from the United Kingdom but has been living in South Africa for over 20 years. He studied Marine Zoology and Zoology at Bangor University in Wales and holds a FGASA level one guiding qualification. Toby is currently the owner and director of Pangolin Photo Safaris, a company dedicated to catering for photographers of all levels of experience on safaris in Africa and beyond.
Toby's passion for wildlife conservation and boundless enthusiasm for technology-driven marketing has led him to found Pangolin.Africa which aims to make a significant impact on the survival of this amazing animal across the continent.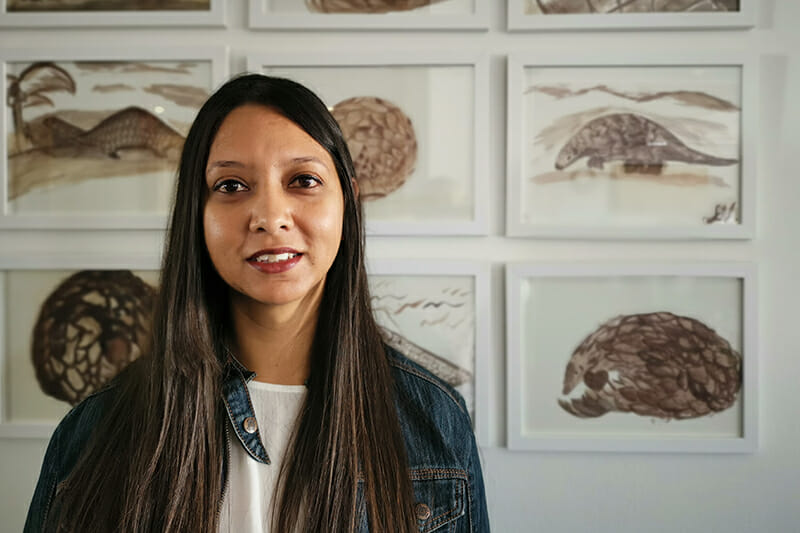 Sadicka Hajwanie-Timm
Finance Manager & Executive Board Member
A born and bred Capetonian, Sadicka has worked in the tourism industry for the last 14 years. She previously held the position of Head of Finance for one of South Africa's largest destination management companies as well as Financial Manager for a corporate travel company owned by Africa's largest Media Publication house.
Sadicka obtained a degree in Cost and Management Accounting at the Cape Peninsula University of Technology and is currently in the process of obtaining her qualification from The Chartered Institute of Management Accounts (CIMA).
In addition to taking on the role as Pangolin.Africa's Financial Manager she is currently the Financial Manager for the Pangolin Photo Safaris Group.
Helena Atkinson
Conservations Projects Manager
Helena has been working as a conservationist, wildlife photographer and guide for the last 12 years. She has a master's degree in Conservation Ecology and has spent a lot of time in the field, working specifically with the challenges around human and wildlife conflict. She has been involved with several conservation projects in Africa, most recently heading up the conservation unit at the Wildlife and Environment Society of South Africa. She has extensive experience in the NGO sector and especially the governance requirements for them as well as project development and implementation.
She now leads photographic safaris throughout Africa, South America and India with her husband, renowned photographer Grant Atkinson. They hope that through their photography and eco-tourism they can play a role in conserving wildlife areas and the animals that they so love to photograph.
Janine Southwood
Board Member
Janine has been in the tourism industry for more than 20 years, and currently heads up The Personal Collection at Thompsons Africa.
"Born in Africa, I am blessed to part of a continent like no other. Should you soul be an African one, you will immediately reorganise you truly belong here, and during the course of your journey through life, Africa will steal your heart. To fully describe my love of Africa and how it captivates me would be the start of an incredibly long love story. The conservation of our wildlife and our magnificent landscapes is what drives me to fight to preserve each animal's right to be here for a long time to come."
Ntokozo Mbuli
Board Member
Accomplished television producer and presenter Ntokozo Mbuli is not only the brains behind some of South Africa's award-winning content, but her passion for the natural world drives the extensive work she does beyond the television medium, in the conservation and sustainability space. With just over 20 years of television production experience, creating content across genres for all broadcasters, Ntokozo's 11-year career in front of the camera on environmental TV shows, has clearly been accompanied by an even more successful behind-the scenes career.
Jillian Blackbeard
Board Member
Following her return to Botswana in 2011 Jillian worked in the tourism industry, joining Botswana Tourism Organisation in 2014 and serving as Executive Director for Marketing from 2016 until 2019. She was part of the implementation of tourism diversification strategies to develop tourism product diversification and promote the country globally. She is a founding member of the Tlhokomela Botswana Endangered Wildlife Trust and the Wildbird Trust supporting the Into the Okavango project. Jillian frequently speaks at global conferences on topics ranging from wildlife tourism, sustainable tourism, circular economy and innovative partnership in African marketing.
"The privilege of living with free roaming, naturally safe wildlife cannot be reserved for this generation only, we need to individually act as part of a greater whole today to ensure that this continues forever".
Machel van Niekerk
Northern Cape Project Manager
Wildlife conservation and environmental education is Machel's lifelong passion. As a qualified veterinary nurse, she has more than 30 years' experience with rehabilitating wild animals and birds including pangolins, aardwolf, bat-eared foxes and raptors.
Machel recently completed a wildlife rehabilitation course at N/a'an ku sê Wildlife Sanctuary in Namibia and has also received pangolin-specific rehabilitation training at the Johannesburg Wildlife Veterinary Hospital in South Africa.
Catherine Ritchie
Marketing & Comms Executive
Catherine has a background in consulting in the travel and tourism field, as well as marketing in both the hospitality and the conservation NGO sectors. She previously held the position of Marketing & Communications Manager at WESSA for over eight years where she actively promoted the organisation's diverse range of programmes including international eco-labels, youth environmental skills development initiatives, and ecosystem restoration projects.
Catherine is continuously inspired by the Africa's rich, diverse natural heritage and loves sharing conservation stories that inspire positive action and change.
Davy Moses
Web, Design & Brand Executive
David originally studied to be a professional chef but, luckily for us, he realised his passion lay in digital art and he changed lanes to become a designer extraordinaire.
He has over 10 years' experience in the creative field working with all elements of print, packaging, photography and digital design. David also has sharp skills in web development and maintenance, SEO & online marketing, and social media management; and has been known to dabble in IT and video editing. All this, combined with his enviable command of design software programmes, has made him our much-valued go-to guy for all things creative.